Support the Arboretum on Giving Day
Support the Arboretum on Giving Day



Giving Day is a great day to Support the Arboretum!
People have always been dependent on plants but, until now, plants have not depended upon humans. Here at the UC Santa Cruz Arboretum & Botanic Garden we study and display plants that reveal the vital relationships between plants, wildlife, and people.
Your contribution supports UCSC student interns, providing valuable work experience, inspiring many to pursue careers in environmental studies, botany and conservation ecology, horticulture, and garden administration. Students work alongside staff and generations of dedicated volunteers.
The Arboretum is a public garden of unique plants from the world's five Mediterranean climate zones, serving our community for inspiration, relaxation, educational events, bird-watching, and family gatherings.
Your Giving Day Contribution will directly help us to:

- Improve the aesthetics of garden pathways
- Provide additional rest areas along popular paths
- Create more way finding and informational signage
- Inspire UCSC students in a globally significant setting
Your generosity keeps us growing and thriving.
Giving Day helps your contributions to the Arboretum go further. UCSC will award cash prizes for the most unique donors during the timespans below. All donations of $5 or more are counted.

In the past years the challenges and matches have almost doubled your gifts! Here are this year's challenges:


All donations are welcome and in the past we've been especially lucky during the Early riser and Mid-Day Motivator Challenges. If you are able, splitting your donation between time spans is a great way to contribute towards multiple Challenges!
-Members Only-

   The Arboretum & Botanic Garden and the Friends' Board invites you to an exclusive opportunity to meet and greet the new Director of Development, Amber Burke. Enjoy refreshments and good company with us on February 28 from 4-6 pm in Horticulture II.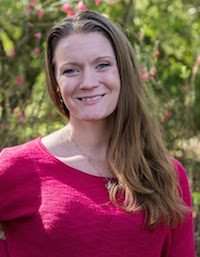 Amber Burke enjoys connecting with plants, animals, and humans. In her free time she plans new explorations for her and her family. Currently this translates to visiting other arboretums, public gardens, wildlife refuges, and museums. Her 8 year old son keeps her busy on the weekends, chasing basketballs and riding electric scooters. Her education includes a Bachelors in Hospitality, Tourism and Event Management (2013), a grant writing certification (2016), and staying current with development trends through active memberships with Association of Fundraising Professionals, American Public Garden Association, and Society of Research Administrators. During the last 10 years, Amber has served in research development, finance management, event management and volunteer programming roles for mid to large-sized non-profits. She highly values creativity, connection, and celebration and is inspired by the Arboretum's community of passionate supporters.
   This members-only event is being held in connection with Giving Day, a 24 hour campus wide fundraising effort being held on February 28. While donations are not required nor expected, we hope supporters will consider participating in the Mad Dash Challenge, by making a small donation online between 6-8

Click here to donate on Giving Day!