Other Gardens and Collections
The Eucalyptus Grove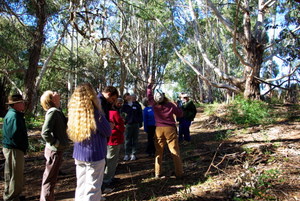 The Grove, among the first areas planted in the Arboretum & Botanic Garden, consists largely of specimens donated by Max Watson, an admirer of the genus. Some of the trees are of species rare in nature or rare in California plantings. A few species are in flower at any given time of year, and thus, somewhere in the grove, nectar is readily available for hummingbirds and butterflies. Several trees are used by monarch butterflies as overwintering sites.
World Conifers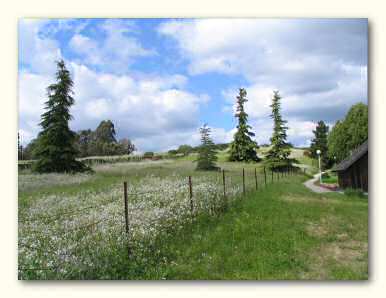 Though potentially of great scientific interest, conifers, as a group, are not well studied, mostly because of the unavailability of research material. In much of the world, conifers tend to be difficult garden subjects. In general they are highly intolerant of air pollution and poor-quality irrigation water. Some cannot tolerate summer rain. Others cannot tolerate frost. Few areas can grow more than a small number of species.
In establishing its conifer collection, the Garden capitalized upon its remarkable horticultural potential. The collection contains representatives of all nearly all known genera of conifers, with the exception of a genus unknown outside of China and a parasitic New Caledonian genus.
Primitive Flowering Plants
This collection contains "living fossils" among the world's flowering plants. They are of unusual interest because of the unlikelihood that ample fossil evidence of the earliest flowering plants will ever be found. The collection contains many difficult-to-grow species and is essentially unique. It has attracted scientists from far corners of the world and is now being used by molecular systematists, who hope to use modern methods to shed light upon the origins of flowering plants.
The Laurasian Forest
This section serves to hold various interesting North American plants, particularly high-altitude Mexican species - many of whch are potentially of use in plant breeding or landscaping or in the development of student interest in the flora or the Western U.S.
The South American Section
The South American section is sparingly planted with materials of instructional value. It is purposely located adjacent to the Landel's New Zealand Garden, in order to facilitate comparison of the New Zealand and Chilean floras and to create interest in past responses of living organisms to climatic and geologic changes.
Natives-Come-First Garden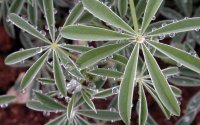 This garden is meant to be a repository and exhibit place for unusually attractive individuals found among our native species. Its functions include the encouragement of interest in our native flora, provision of a resource for plant breeders, and promotion of landscape design utilizing native plants.
Hummingbird Garden
There is no actual hummingbird garden, but Anna's hummingbirds are year-round residents and a place on the hummingbird trail is said to be the best place in California or the world to see Allen's hummingbirds. The Allen's hummingbirds are here starting sometime in February and continuing through early summer.
North Temperate Forest Collection
Plants are from the temperate rather than tropical or arctic parts of North America, Europe, and Asia. On some of our maps it is called the Laurasian Forest, a reference to the theory of plate tectonics. The southern supercontinent was called Gondwana and the Northern was called Laurasia. After the break up by tectonic forces of the continents into North America, Europe and Asia (not including India) there remain some similar plant families from within these three major areas.