Arboretum 
Highights
Join us at the Arboretum's 50th Anniversary Jubilee. Sunday, September 20, 4-7pm. Tickets now available. Become a community sponsor of this event. More..

What's Blooming? Beautiful Grevilleas in the Australian Garden; a stunning Metrosideros excelsae tree in the New Zealand Garden. Spectacular colors can always be found in the Arboretum. More . .
Become a 
Volunteer
Visit the 
Arboretum

You've got a world of choices:
Benefits of 
Membership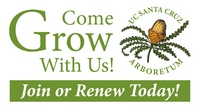 Joining the Friends of the Arboretum has many benefits!