Arboretum 
Highlights
What's Blooming? 
Many summer blooms to enjoy. A great time to visit! Read more
---
Watch a Video
Narrated by
Frans Lanting
On the unique botanical value of the Arboretum.
---
Art in the Arboretum
Local artists exhibit their works in the Aroma Garden. Read more

VOLUNTEER 
NEWS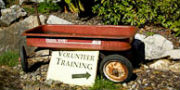 Volunteer opportunities
Gardening & Weeding; Meet &
Greet, Wreath Making, Norrie's
Gift Shop. Read more


Volunteers record your hours
by logging in here.

New Volunteer Orientation
Thursday, August 11. This session will focus on familiarizing new volunteers with the Arboretum's structure, significance, staff, procedures, opportunities, and resources. More information to come.

Stay Connected!
Sign up to receive email updates
from the UCSC Arboretum
Visit the 
Arboretum

You've got a world of choices:
Benefits of 
Membership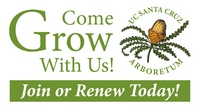 Friends of the Arboretum membership has many benefits!