Arboretum Tours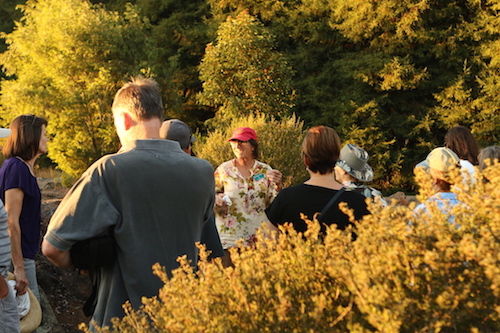 Melinda Kralj, Curator of the Australian Collection, leads a tour
Docent-Led Tours
Requesting a Tour
Free tours are offered with admission the first Saturday of each month (no advance reservations required; meet promptly at 11:00am in front of Norrie's Gift Shop).

More personalized flexible tours are offered for $10 per adult and $5 per child, which includes admission (no Community Day or member discounts, sorry). Requesting a docent-led tour is a great way to visit the Arboretum. Tours usually take 60-90 minutes. Simply submit the form (below) and we will contact you.
Payment is requested in advance and can be done via the phone (831-502-2998) or by mailing in a check payable to "UC Regents" and including tour date on check.  We prefer receiving tour requests at least two weeks before the requested date(s). If you need to cancel a tour, please contact us at least 24 hours before your tour. Tours are non-refundable but on occasion may be credited.
Tours are best for groups of 4 to 15 people. If your group size is greater than 15, we will assign multiple tour guides and divide into smaller tour groups. If you are requesting for less than 4 people, we cannot guarantee a guide.

Tours in Spanish are available by special arrangement.
You are free to visit the gardens on your own, following any of several self-guided paths, at any time we are open.