Arboretum 
Highights
Arboretum's 50th Anniversary Jubilee Fundraiser, Sunday, September 20, 4-7pm. Help sponsor this event. More.. 
What's Blooming? Spectacular blooms like this Leucospermum 'The Spider' can always be found in the Arboretum. More . . 


Fall Plant Sale, October 10 Plan ahead for one of the Arboretum's most popular events. Fall is a great time to plant and drought tolerant plants will be highlighted. More . .

VOLUNTEER 
NEWS
Visit the 
Arboretum

You've got a world of choices:
Benefits of 
Membership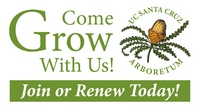 Joining the Friends of the Arboretum has many benefits!