Arboretum 
Highights
 Join us in celebrating  the Arboretum's 50th  anniversary.  Support the  "50K for the 50th" Spring Fundraising Campaign.  Please donate.
---
 What's  Blooming?  Pincushions! The  Leucospermums or  "pincushion proteas" in the South African Garden are spectacular this year. Color can always be found throughout the Arboretum. More . .
Become a 
Volunteer
Visit the 
Arboretum
You've got a world of choices:
Benefits of 
Membership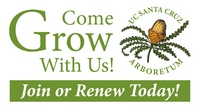 Joining the Friends of the Arboretum has many benefits!