Arboretum Tours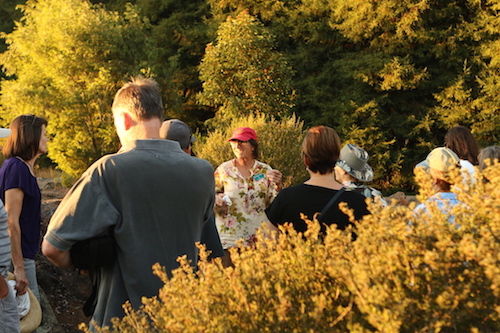 Melinda Kralj, Curator of the Australian Collection, leads a tour
Docent-Led Tours
Requesting a docent-led tour is a great way to visit the Arboretum. Simply submit the form (below) and we will contact you.
Tours are $10 per person, which includes admission to the Arboretum. When paying by check, please make checks payable to "UC Regents." We prefer receiving tour requests at least two weeks before the requested date(s). If you need to cancel a tour, please contact us at least 24 hours before your tour.
The preferred minimum tour group size is eight people but it might be possible to accommodate a smaller group size; please inquire by using the tour request form (below).
In addition to scheduling a docent-led tour, you can also join a free (with your Arboretum admission) tour on the first Saturday of every month. The free first-Saturday tours meet in front of Norrie's Gifts and Garden Shop at 11:00, no reservations required. You are free to visit the gardens on your own, following any of several self-guided paths, at any time we are open.