All of us who knew and loved Denise Polk (1957-2017) were happy when the Denise Polk Propagation Scholarship was established last year, co-funded by the UCSC Arboretum and Botanic Garden and the Santa Cruz County Chapter of CNPS. The current scholar, Gina Trabucco, is working with poached dudleyas and establishing a new rock garden in the Arboretum's Conservation Garden.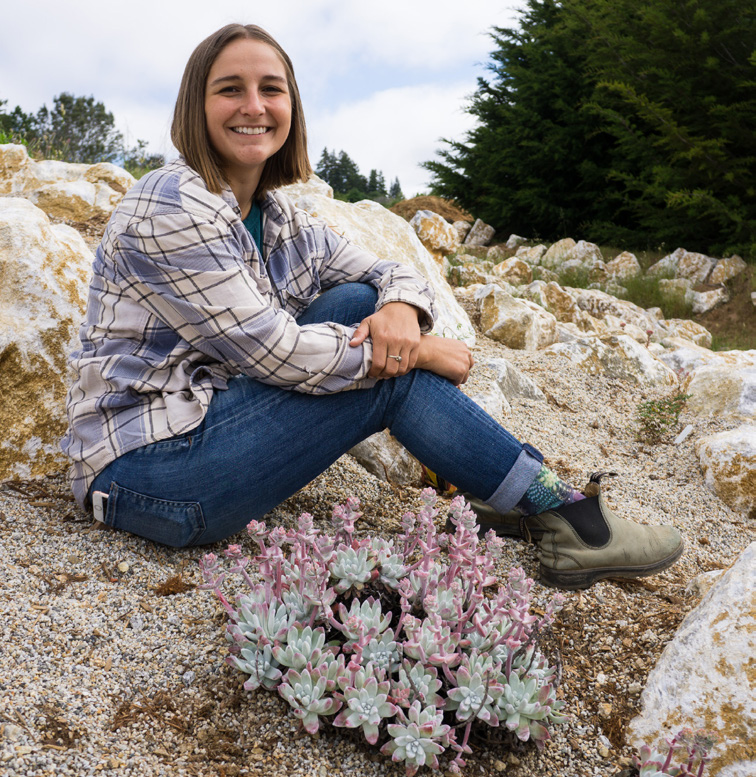 Gina was inspired to work with dudleyas while participating in the Arboretum Interactive Ecology Internship program (spring 2018), led by Brett Hall. She participated in a trip with Stephen McCabe to replant dudleyas confiscated from poachers in Big Sur. The rock garden is also her Senior Project—Gina has just completed a degree in Environmental Studies at UCSC.
The rock garden provides a home for many of the rescued dudleya plants that can't be returned to the wild, due to exposure to nursery conditions and possible pathogens. Most of the dudleyas in the rock garden are either Dudleya farinosa (bluff lettuce) or Dudleya caespitosa (coast dudleya). Both are highly sought after by poachers due to the recent craze for dudleyas as house plants in parts of Asia.
Gina has also been propagating and planting about thirty other coastal species. While the rock garden doesn't represent a specific plant community, all of its plants are native from Northern San Luis Obispo to Southern Mendocino and within fifteen miles of the coast. They include Acmispon spp., Armeria maritima, Clarkia spp., Erigeron glaucus, Eriogonum parvifolium, Lupinus nanus,
L. arboreus, Pellaea andromedifolia, Phacelia spp., and Selaginella bigelovii. Framing the rock garden will be larger plantings, including Ceanothus spp. and Artemisia pycnocephala.
Gina told me about her favorite plant in the rock garden, a Dudleya farinosa. "It was so heavy and droopy with its own weight, I had to be careful. I just planted it last week. This is something they poached—something this big! For this to be one cluster, it must be more than a hundred years old! They're slow growers and it takes them a long time to get going."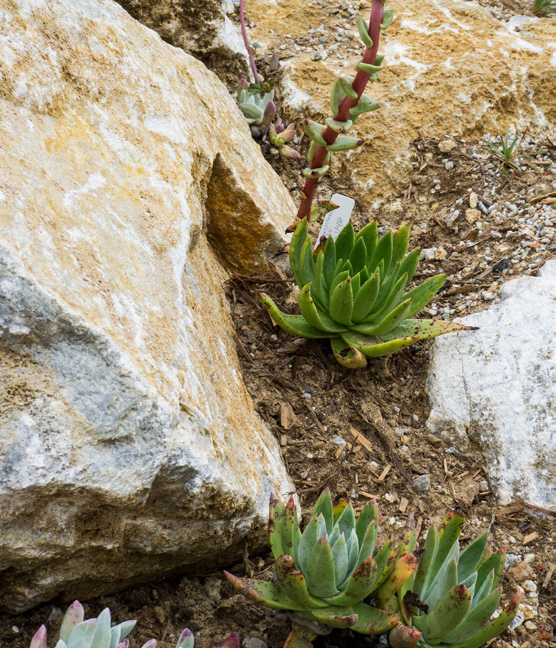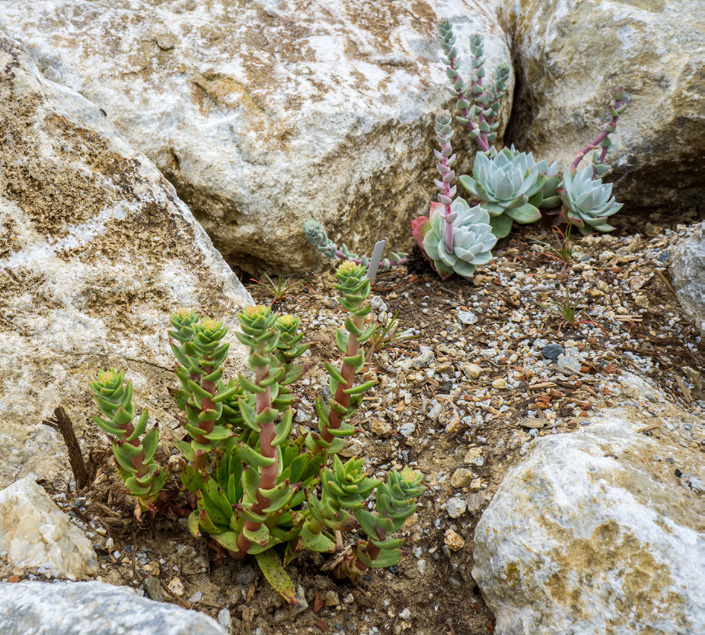 Newly planted dudleya in UCSC Arboretum rock garden. Photos
by Jackie Pascoe.
Signage planned for the rock garden will highlight conservation efforts to protect dudleyas, as well as the risk of invasive non-native plants to native coastal ecosystems—which we can easily see right along West Cliff Drive as well as the coastal bluffs north of Santa Cruz.
If you visit the Arboretum this summer, you might find Gina there. She'll be working to complete the rock garden plantings before going on to a career in restoration ecology.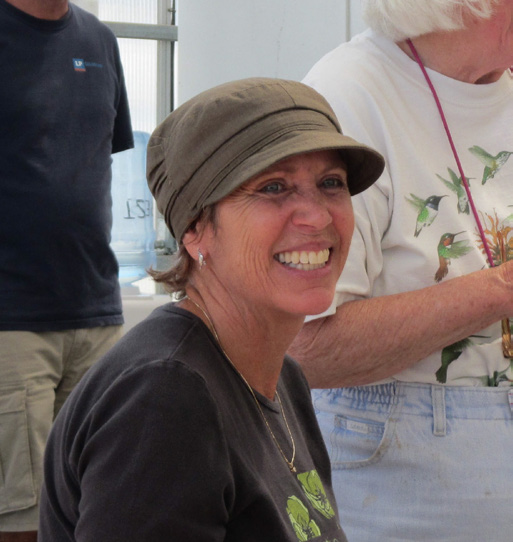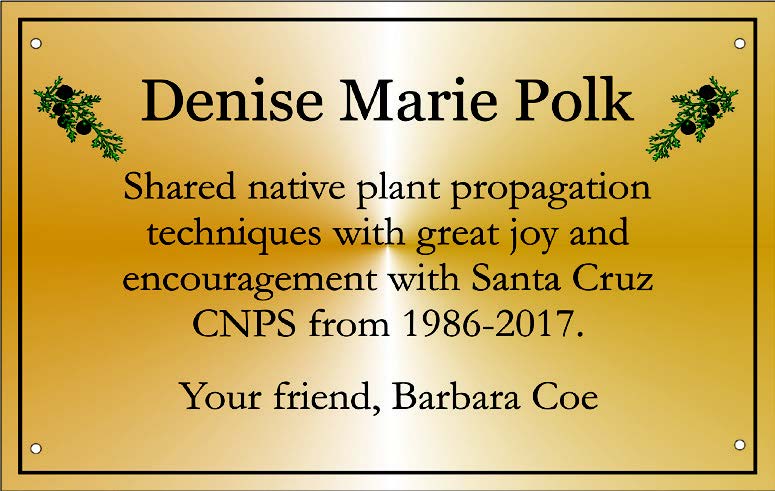 Read the rest of this edition of The Cypress Cone here.