Welcome!
Special Post-Holiday Hours

The gardens are currently open for normal business hours, 9 a.m. to 5 p.m. every day, with physical distancing guidelines in effect.
Out of an abundance of caution, Norrie's Gift & Garden Shop is temporarily closed for in-person shopping. Please shop online and schedule curbside pickup at shopucscarboretum.com. We are closely monitoring the covid situation within the county and we will reopen when we can do so safely. While there have been no known cases of covid exposure at the Arboretum or Norrie's, the health and safety of our volunteers, customers, and staff is our highest priority.
Regular Hours
Our gardens are open 9 a.m. to 5 p.m. every day, with physical distancing guidelines in effect. Appointments are not required to visit our gardens. 
We offer two options for paying admission:
Pay online and retain your receipt as proof of payment.

Pay onsite by depositing cash or check payable to UC Regents in one of our paytubes.
Our restrooms are open. Please leave doors propped open when not in use and wash your hands or use hand sanitizer. Our library and meeting rooms are temporarily closed.
Please:
Wear a mask

Maintain 6 feet of space

Bring your own drinking water

Conduct a COVID symptom check prior to entering our gardens 

If you are sick, stay home

Practice good hygiene
Admission is $5 for adults, $2 for children, and free to our Members and Volunteers.
---
Garden Etiquette
---
Please help us maintain the peaceful atmosphere people have come to enjoy. For fire safety and the health of other visitors, there is no smoking.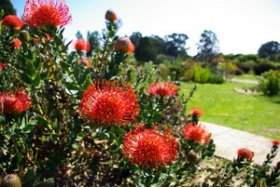 To protect our collection, endangered species, and educational materials: There is no collecting of any plant or animal material of any kind dead or alive. This also means no collecting of any seeds or cuttings. We are required to mention that collecting tadpoles, harassing or touching the federally protected red-legged frogs is against federal law. Adult supervision of children is required. Take only notes (not labels or flowers), leave only footprints.
For your safety: Mountain lion sightings are rare, but read the signs about how to stay safe. Please stay on concrete or dirt paths to avoid poison oak, spines, uneven footing and to avoid compacting the soil over tender roots or trampling small plants.
UCSC does not allow dogs on campus, which includes the Arboretum.