California Entrance Garden
California Natives
Over the past decade California gardeners have been eager to find ways to lower their water-use and attract native wildlife to the garden, while still maintaining attractive landscapes. One of the best ways to do this is to use plants native to California, and many local gardeners have found inspiration in the Garden's California collection. The Arboretum & Botanic Garden is extremely fortunate to have many native plants naturally occurring on the site. Most noteworthy are the ponderosa pines, which are probably the most maritime and at the lowest elevation of the entire North American range of the species. In addition, coast redwoods, Douglas-firs, coast live oaks, California bays, willows, cottonwoods, madrones, and buckeyes are here, along with rolling meadows of native bunchgrasses.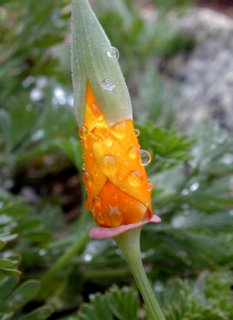 The Garden's California Entrance Garden boasts many special forms of interest to gardeners. Many of these were originally selected in the wild by Garden staff, and have since been propagated and released to the horticultural trade. Epilobium (formerly Zauschneria) 'Hurricaine Point' has been an especially popular selection. Other showy natives are well represented at the Garden, such as bush anemone (Carpenteria californica ), wild lilacs (Ceanothus spp.), monkeyflowers (Diplacus spp.), buckwheats (Eriogonum spp.), woolly blue curls (Trichostema lanatum), salvias, and the eye-catching flannel bush or Fremontia (Fremontodendron spp.).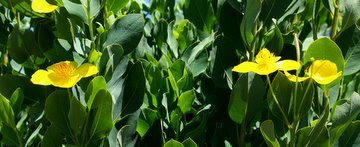 Many California natives are extremely rare in the wild, and the Garden has some of these plants on display. In addition to housing an extensive collection of native bulbs, the Garden has several rare Channel Island plants: the Santa Cruz Island bush mallow (Malacothamnus fasciculatus ssp. nesioticus) and a selection of island barberry (Berberis pinnata ssp. insularis ), which has been named 'Shnilemoon'.
Visitors invariably ask about the handsome Channel Island bush poppy (Dendromecon harfordii), which graces the Garden entrance and flowers almost every day of the year. The collection also emphasizes special plants native to the Santa Cruz Mountains and the Santa Lucias in Monterey County. Handsome specimens of the endangered Santa Cruz Cypress (Cupressus abramsiana) can also be seen, along with the rare Santa Lucia fir (Abies bracteata).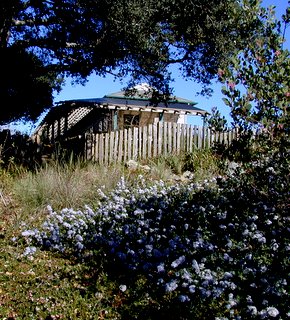 Showy natives for smaller gardens are displayed near the entrance of the Garden. A more extensive native area is a combination of two contiguous sites, an eight-acre area with mature plantings of various larger natives, and a future 20-acre area that is being organized around the theme of native plant communities.