Aroma & Succulent Gardens
The Garden's Aroma & Succulent Gardens sit across from Norrie's Gift Shop.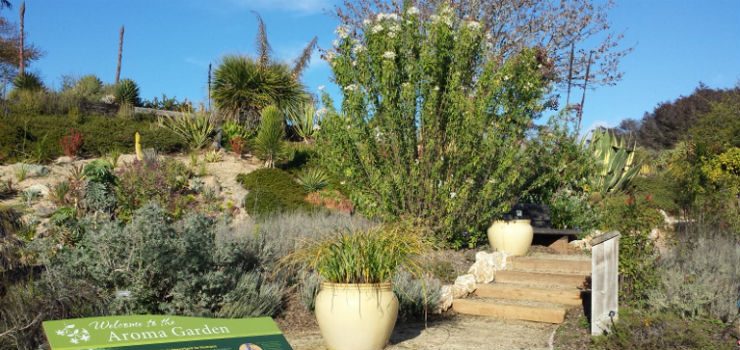 The Aroma Garden contains salvias of all shapes and sizes, lavenders, oreganos, thymes, and many other drought-tolerant perennials and shrubs can be seen. You will see many plants that produce their aroma from their flowers, and many which produce their aroma from their leaves.
Examples of the many salvias are the Salvia lanceolata and the Salvia 'Waverly'. An example of the many scented plants is the Philadelphus 'Belle Etoile' (Mock Orange).
There are also innumerable bees and butterflies attracted to the Aroma Garden, like this Western Tiger Swallowtail butterfly alighting on a Jasminum azoricum.

One of the most fascinating plants in the Aroma Garden is the Escallonia illinita. This plant gives off a distinct odor that is subject to an individual's perception.  Some smell curry while others smell maple syrup.

The new interpretive sign in the Aroma garden recommends "As you tour the garden, be sure to stop and smell the flowers. Feel free to gently rub a leaf to release its aroma".  It will surely enhance your experience as you tour.
---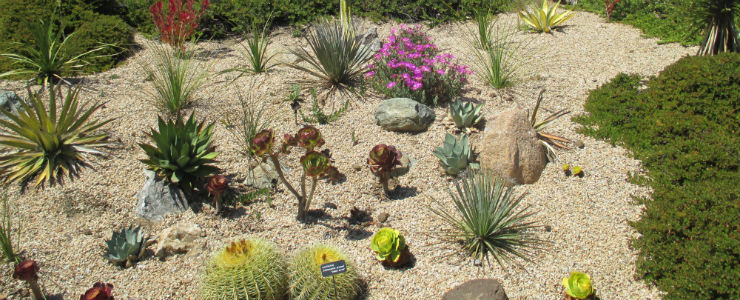 The Succulent Garden's collection focuses on succulents from the coastal areas of Mexico and California. Examples of beautiful and interesting cactus and succulents are exhibited in this garden. Many of the plants are from the collections of Victor Reiter, noted for his work as a plant breeder.

Succulents are fascinating plants that grow in extreme conditions. Their unusal look is due to adaptations that enable them to survive where water is scarce or hard to retain.  

Echinocactus grusonii or Golden Barrel Cactus is a very beautiful cactus native to Central Mexico. Yucca baccata (Datil Yucca) is a common species of yucca native to the deserts of the southwestern United States and northwestern Mexico
Succulents are found in many plant families and on every inhabited continent. The garden displays a variety of Dudleya, including Dudleya viscida, a rare succulent plant known by the common name Sticky Liveforever, and Dudleya caespitosa (Sea Lettuce), which is endemic to much of coastal California.