Aroma & Succulent Gardens
The Garden's Aroma & Succulent Gardens sit across from Norrie's Gift Shop.

The Aroma Garden contains salvias of all shapes and sizes, lavenders, oreganos, thymes, and many other drought-tolerant perennials and shrubs can be seen. You will see many plants that produce their aroma from their flowers, and many which produce their aroma from their leaves.

The interpretive sign in the Aroma garden recommends "As you tour the garden, be sure to stop and smell the flowers. Feel free to gently rub a leaf to release its aroma".  It will surely enhance your experience as you tour. Here are some examples of the many salvias.
| | |
| --- | --- |
| Salvia 'Costa Rica Blue' | Salvia 'Dancing Dolls' |
There are also innumerable bees and butterflies attracted to the Aroma Garden, like this Western Tiger Swallowtail butterfly alighting on a Jasminum azoricum. One of the fascinating plants in the Aroma Garden is the Psoralea pinnata (Fountain Bush), which many visitors say has blooms that give off a distinct odor of grape kool-aid.

| | |
| --- | --- |
| Jasminum azoricum | Psoralea pinnata (Fountain Bush |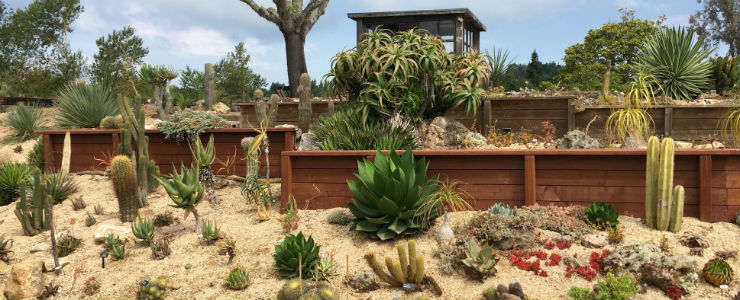 The Succulent Garden's collection focuses on succulents from the coastal areas of Mexico and California. Examples of beautiful and interesting cactus and succulents are exhibited in this garden. Many of the plants are from the collections of Victor Reiter, noted for his work as a plant breeder.

Succulents are fascinating plants that grow in extreme conditions. Their unusal look is due to adaptations that enable them to survive where water is scarce or hard to retain.

Agave victoriae-reginae is a small species of succulent flowering perennial plant popular as an ornamental. Nolina siberica is one of the more spectacular plants in the garden.

| | |
| --- | --- |
| Agave victoriae-reginae | Nolina siberica |
Succulents are found in many plant families and on every inhabited continent. The garden displays a variety of Dudleya, including Dudleya sp. 'Frank Reinelt', with silver leaves that blush rose-purple. Another example is Aloë plicatilis that has a striking fan-like arrangement of its leaves.