Education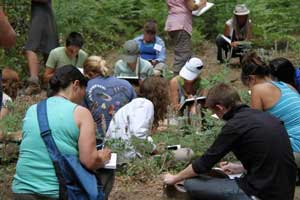 Participants in the California Naturalist Program
The Arboretum 
& Botanic Garden
's contributions to education span preschool to university students and the public.
The Garden's education programs serve school children, UCSC students, community college students, the gardening community of the central coast of California, and visitors from around the world.
Significant education programs include the now-famous "
Hummingbird Day
," and additional bird tours, which are quite effective in the Garden's natural gardens. 
Programs like the
California Naturalist Program
and periodic lecture series on various plant communities for both for the public and professionals are highly regarded and well attended.
We've recently re-opened the Lane Botanical Library! Hours vary. This is a collection of books that can help educate anyone on gardening, plants, insects, and critters of the arboretum. We recently added a children's corner, under our reference book collection. This is a non-lending library, run by volunteers, stop by today!