Education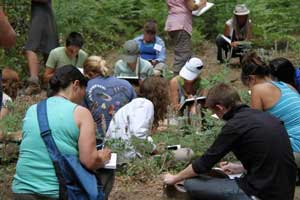 Participants in the California Naturalist Program
The Arboretum
& Botanic Garden
's contributions to education span preschool to university students and the public.
The Garden's education programs serve school children, UCSC students, community college students, the gardening community of the central coast of California, and visitors from around the world.
Significant education programs include the now famous "
Hummingbird Day
," and additional bird tours, which are quite effective in the Garden's natural gardens. 
Programs like the
California Naturalist Program
and periodic lecture series on various plant communities for both for the public and professionals are highly regarded and well attended.
Hosting both regular garden tours as well as specific groups, such as the Riekes Nature Awareness Center for young children, is another important educational contribution.