Research and Conservation
The Role of Traditional Native American Ecological Knowledge in Addressing Environmental Issues.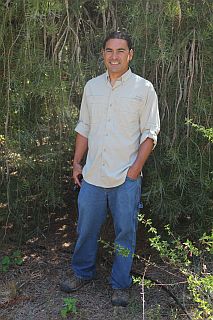 The importance of reviving traditional ecological knowledge to more effectively address contemporary environmental problems has been acknowledged by scientists and the U.S. Forest Service.  The Amah Mutsun Relearning Program at the Arboretum was highlighted in a recent article, "Native traditional methods revived to combat California drought, wildfires", that discussed the revival of these traditional Native American land management practices.

"Native Americans in California had long tended the land in ways that preserved watersheds to ease droughts and created barriers to out-of-control fires, said Rick Flores, steward of the Amah Mutsun Relearning Program at the University of California Santa Cruz Arboretum." Read more...
---
Santa Cruz County Land Trust Restores Native American Stewardship 
Photo: Dan Coyro - Santa Cruz Sentinel
November 28, 2014  Santa Cruz Sentinel, Kara Guzman
"The Amah Mutsun, a Native American Tribe, has partly restored tribal stewardship of its land, stretching from Pescadero to the Pajaro Valley, thanks to partnerships with private and public land owners." 
"The Amah Mutsun Land Trust was formed in 2012 with the aim of returning native plants and traditions to tribal territory. Agreements with Año Nuevo State Park, the Peninsula Open Space Trust, Pinnacles National Park and others allow the tribe to access 70,000 acres of its former territory to practice traditional agricultural techniques..." read more...
Learn more about the Amah Mutsun Relearning Program on the Releaning Program's webpage.
---
Arboretum's Director of Research Featured in Science News Magazine cover story.

Science News Magazine, Vol. 186, October 18, 2014, Nsikan Akpan
"Climbing high to save a threatened West Coast plant..."
"Scientists plan to resurrect liveforevers from extinction after a devastating fire."
The Arboretum's director of research, Stephen McCabe (pictured on SN cover), is working with a small group of scientists to save Verity's liveforever (Dudleya verityi) from possible extinction.  read more...