UC California Naturalist Program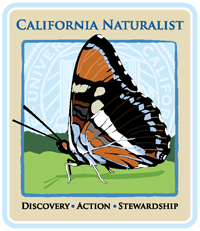 The California Naturalist Program for 2017 has been completed.

The Capstone projects from the 2017 program illustrated below are created by the class participants to provide a bridge from our class to their service.  The graduates provide environmental service in one of four areas:  Citizen Science, Program support (many help the Arboretum and local parks), Education/Interpretation, and Stewardship Projects.  For more information about different types of projects go to Capstone Project Descriptions (pdf).

View a pictorial collage of the capstone projects presented by this year's California Naturalist Program graduates. (pdf)
---
The information below pertains only to the 2017 California Naturalist Program. It will be updated in the future for the 2018 program.

The California Naturalist class will introduce you to the wonders of California's unique ecology and engage you in the stewardship of our natural communities. This intensive certification program will utilize a combination of science curriculum, guest lecturers, field trips and project-based learning to immerse you in the natural world of the central coast. The program starts on Thursday evening, April 6. The last meeting is Saturday, June 10. Lectures are required and will be from 7:00- 9:30 pm every Thursday (with a few exceptions highlighted in the program schedule) with most field trips on Saturday or Sunday. [View the program schedule.]

The fee for the program is $400.00.  A limited number of scholarships are available for those with need.
Program Goals:
Foster a committed corps of volunteer naturalists and citizen scientists trained and ready to take an active role in natural resource conservation, education, and restoration
Provide training, in collaboration with local sponsoring institutions, for adult environmental stewards through an adaptable outdoor and in class curriculum which can be easily applied in a variety of settings
Engage adults in interactive learning which provides them with scientific literacy and critical thinking skills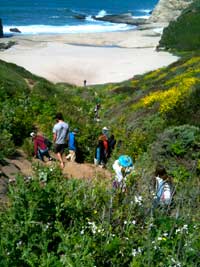 Student Learning Outcomes:
Understand what it means to be a naturalist
Integrate knowledge about the interconnectedness of abiotic, biotic and cultural factors and their influence on the natural history of the central coast
Demonstrate skills in making and recording natural history observations in a field notebook
Apply knowledge of central coast ecosystems to local and global environmental issues.
Meet all of the course requirements.

 Applications for 2017 are closed.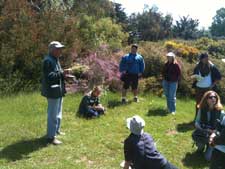 Questions? Contact the hosts for the Arboretum's 2017 California Naturalist Program Linda Anderson or Brett Hall.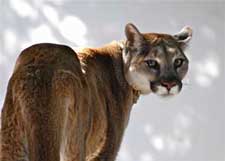 Consider becoming a sponsor! Your sponsorship will be greatly appreciated. Sponsors are acknowledged in class literature, on the Arboretum's website, in class presentations, and in class communications. For more information contact: Linda Anderson or Brett Hall.
---
Schedule of Lectures and Field Trips for 2017 Program
(All lectures will be at the Arboretum from 7:00 – 9:30 pm) except as highlighted (in bold text). Field Trips will generally be on Saturday from 9 am to 4 pm unless otherwise highlighted.  Please look carefully at the schedule and make sure that you are available for all lectures and at least 7 field trips.  We expect all participants to attend a bird observation morning with Todd Newberry and the final Capstone presentations.
Date
Topic
Speaker
April 6
Facilitated discussions.

Introduction to California ecology: fire, climate, adaptation and evolution
Elizabeth Evans

Tom Parker, Professor of Biology, SF State University
April 9
Sunday

Introduction to Journaling

Native American Land Use and Management Practices
Field trip: Quiroste

Elizabeth Evans

Rob Cuthrell, post-doctoral researcher, Dept. of Anthropology, UC Berkeley

April 11
April 12
April 14
Birding Observations and Interpretations
Field trip: Arboretum, 8-11am
Sign up for one time only;
10 attendees max/session
Todd Newberry, Professor Emeritus of Ecology and Evolutionary Biology, UCSC
April 13
Behavioral Ecology of California Birds
Bruce Lyon, Professor of Ecology and Evolutionary Biology, UCSC
April 15
8:00 am

Bird Behavior
Field trip: Long Marine Lab 

Bruce Lyon and Todd Newberry
April 20
Groundwater recharge: a critical surface-subsurface connection for California's central coast
Andy Fisher, Professor of Earth and Planetary Science, UCSC
April 21-23
Camping trip

Santa Lucia Mountains field trip
Field trip: Big Creek Reserve
We will leave Friday morning and be back Sunday afternoon

Brett Hall, California Native Plant Program Director, UCSC Arboretum, and others

April 27
Mammals of central coastal California: past and present

Alan Shabel, lecturer, UC Paleontology Museum, UC Berkeley

April 28,
Friday

The Natural History of Insects
Peter Oboyski, Senior Scientist, Collection Manager, Essig Museum of Entomology
April 29
Bioblitz, UCSC
Peter Oboyski
Alex Jones, Steward, UCSC Campus Natural Reserve
May 4
Amphibians and Reptiles of California
Barry Sinervo, Professor of Ecology and Evolutionary Biology, UCSC
May 6
Bioblitz, Fort Ord
Joe Miller, Steward, UC Natural Reserve
May 11
Restoration and Management of Coastal prairie, coastal scrub, riparian, and maritime chaparral ecosystems
Grey Hayes, Ecologist, Coastal Training Program Coordinator, Elkhorn Slough National Estuarine Research Reserve
May 13
Coastal Prairie: field techniques
Field trip:  Upper UCSC campus
Grey Hayes
May 18
A brief geologic history of California
Elise Knittle, Professor of Earth and Planetary Science, UCSC
May 20

Coastal Geology

Field trip: Santa Cruz to Año Nuevo

Hilde Schwartz, Senior Lecturer, Earth &Planetary Sciences.
May 25

Rain, Snow, Fog, & Drought in California Ecosystems

Michael Loik, Professor of Environmental Studies, UCSC
May 26 Friday
7-9:30

LiMPETS Project  training

Emily Gottlieb, Coordinator of LiMPETS project for Monterey Bay Sanctuary, Pacific Grove Museum of Natural History

May 27
early

Field Trip:  Tide Pools            
Early morning to catch the low tide

Emily Gottlieb
June 1

Global climate change: geologic perspective

Linda Anderson, emeritus Paleoceanography researcher, Institute of Marine Sciences, UCSC
June 3

Forest Management Matters
Field trip:  San Vincente Watershed

Nadia Hamey, Registered Professional Forester, Hamey Consulting

June 8
Wrap-up, working groups….moving forward
Linda, Brett, and Elizabeth
June 10
Capstones

Cast of characters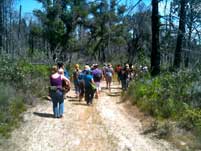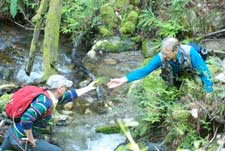 Course Requirements
Required Coursework
Materials
Books (Required)
Book (Suggested)
The Sibley Field Guide to Birds of Western North America, by Sibley, D.A.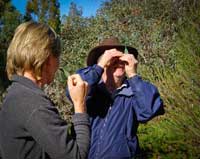 Supplies (Required)
Field Notebook (Sokkia mining transit, Moleskine watercolor or the equivalent)
Water proof ink pen or pencil, small plastic ruler.
Hand lens (at least 10x jewelers loop, magnifying glass) 
Supplies (Suggested)
Binoculars
Digital camera or smart phone