Sponsor a Garden Memorial or Tribute Bench
Dedicate a garden bench to a loved one.

Memorial & Tribute Benches at the UC Santa Cruz Arboretum & Botanic Garden enhance the experience of visiting the gardens for thousands of people each year, while also giving you a beautiful place to feel connected to a beloved friend or family member.  With a commitment to the conservation of the world's botanical diversity, a renowned plant collection, and a scenic location overlooking Monterey Bay, the Arboretum is a treasured oasis for rejuvenation and serenity.  
At any time of the year, the Arboretum's beauty is a fitting setting for honoring loved ones and/or life's milestones.  With each bench placed within the Arboretum, we hope to encourage contemplation and reflection on one's place in this world and our impact on it.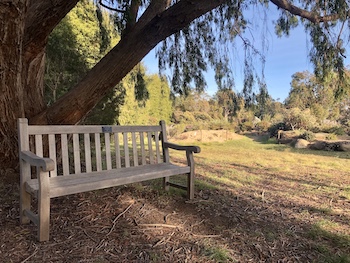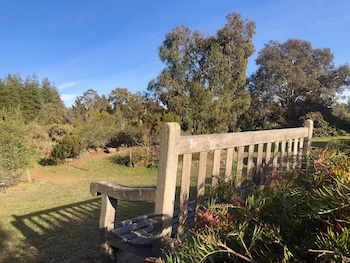 We are developing a map of memorial benches that will be available on our website so that you can more easily locate your loved one's bench in the Arboretum garden. 
Our Memorial & Tribute Bench Program provides vital support for maintaining and nurturing the garden's plant collections. For more information, please see our Bench Policy & Payment Form. 
Memorial & Tribute benches are $10,000, maintained for 20 years and are tax deductible. To set up a Memorial Bench consultation meeting, contact us at (831) 502-2998 or arboretum@ucsc.edu