What's Blooming
    There are literally thousands of interesting individual plants in the Arboretum and Botanical Garden's collections.  At any time of the year there's something blooming, and there's always plenty to see. July is no exception and in the summer there is an abundance of varied blooms in the gardens to see. Well worth a visit!

  To help you decide where to start, below we present a sample of some of the specimens that are currently worth seeking out in our gardens. To aid in your quest a map of the Garden can be found here. Follow the World Tour signs to view many of these blooms. You may also access a larger selection of images that illustrate what plants bloom in our gardens by checking out the photo gallery on the Garden Snapshots page.
California Entrance Garden
  The California Garden, on the right as you enter the Arboretum & Botanic Garden, boasts many special plants of interest to gardeners. Many of these were originally selected in the wild by Garden staff, and have since been propagated and released to the horticultural trade.
   Summer brings forth many new blooms in the California Garden and some of the highlights this month include Eriogonum tripodum (Tripod Buckwheat) and Mimulus aurantiacus (Sticky Monkey Flower). Other plants of interest include the delicate Salvia apiana (White sage) and Heterotheca sessiliflora ssp bolanderi
'San Bruno Mountain'.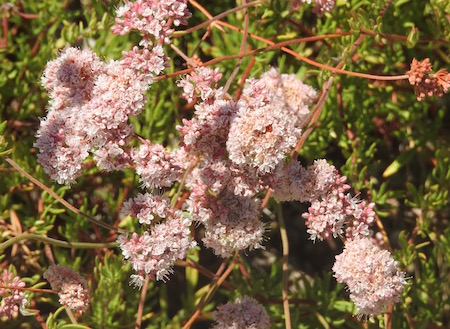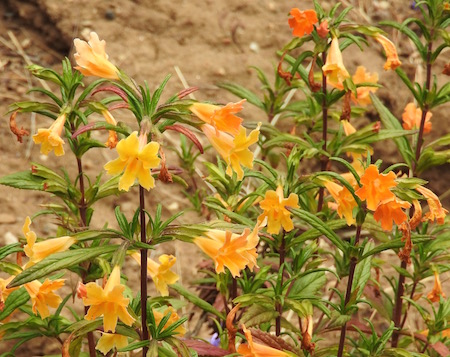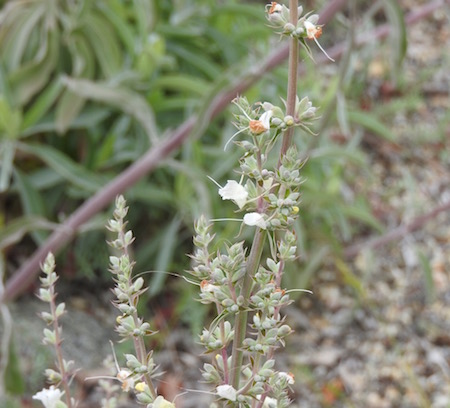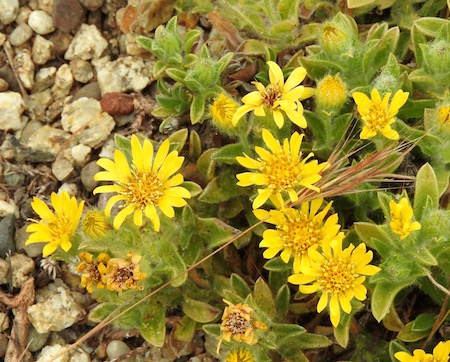 South African Garden
   Many brilliant colors and fascinating plants can be found throughout the South African garden this time of year. There is a wide variety of colorful ericas, leucospermums and leucadendrons currently in bloom. Among the many leucospermums and ericas on display are the Leucospermum glabrum x conocarpodendron and the Erica speciosa.
   Other unique plants of interest are the Elegia capensis (Horsetail Restio) and the Leucadendron galpinii.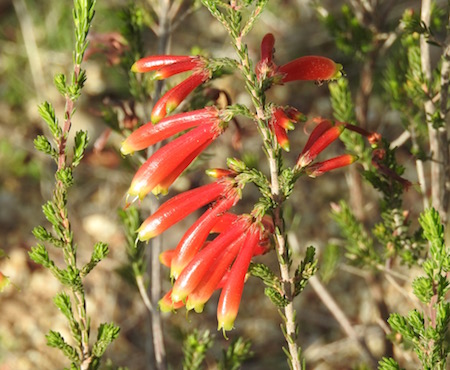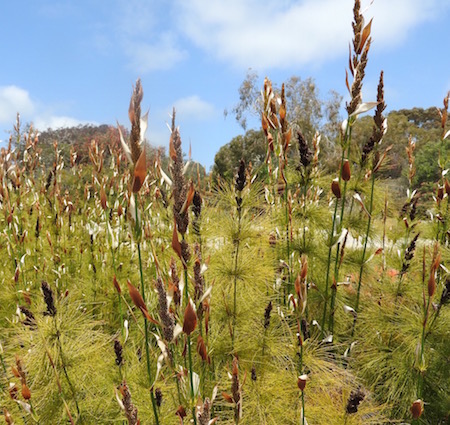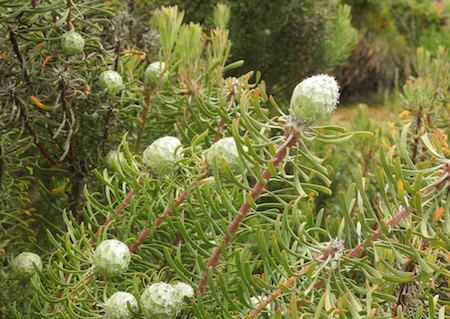 New Zealand Garden
   Many New Zealand plants and trees have become familiar to California gardeners and many special forms of these plants are on display. Currently two of the more spectacular examples in bloom are the Metrosideros kermadecensis 'Radiant' [image in banner photo above] and Metrosideros excelsa (Pohutakawa) [image in banner photo on home page]. They are evergreen trees in the myrtle family often referred to as the New Zealand Christmas tree.
   Among the other varieties of plants currently in bloom are a number of hebes including the Hebe bollonsii and Hebe parviflora var. arborea (Koromiko Taranga), as well as examples of Phormium tenax (New Zealand Flax).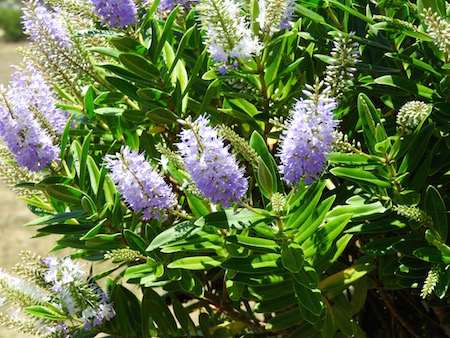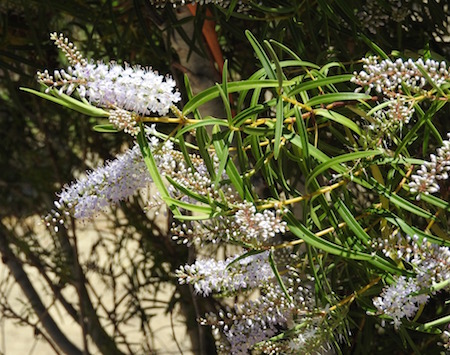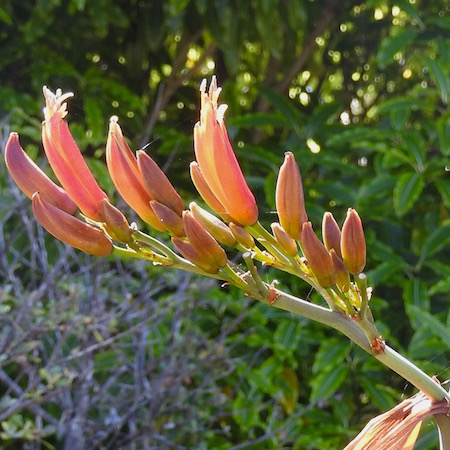 Australian Garden
   A stroll through the Australian Gardens is always a feast for the senses. There is always a variety of banksias and grevilleas in bloom of every form and hue. Both are great favorites of the hummingbirds that zip around the garden.
   The summer months also bring a wide diversity of other plants of interest. These include the brilliant Anigozanthos flavidus (Yellow flowered form) and Anigozanthos 'Regal Claw'. Two other examples are the Callistemon phoeniceus (Pink flowered form) and Pimelea ferruginea 'Bon Petite' (Rice Flower), a very attractive small shrub with masses of magenta pink tubular flowers.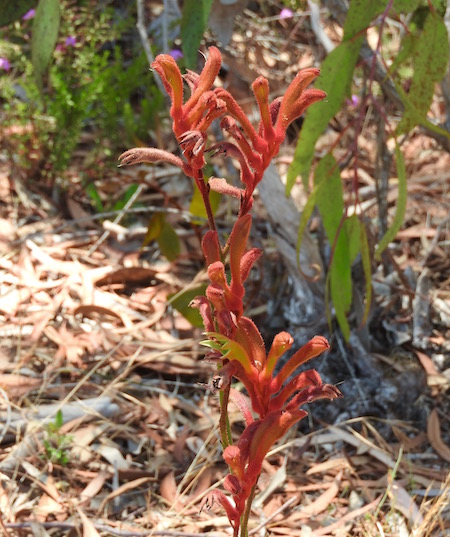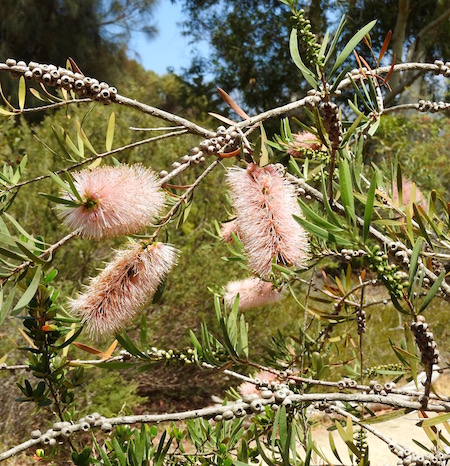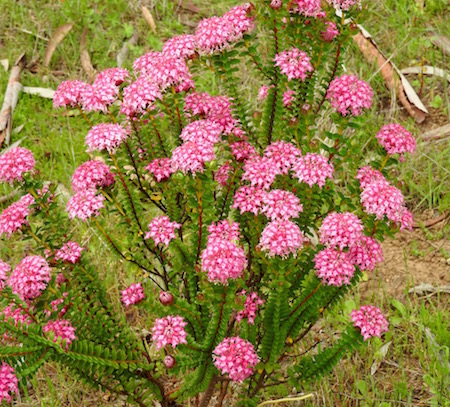 Learn about banksias from Melinda Kralj, Australian Garden curator, and the Outback Howlers.

Aroma & Succulent Gardens
   The Aroma Garden contains salvias of all shapes and sizes, lavenders, oreganos, thymes, and many other drought-tolerant perennials and shrubs can be seen. You will see many plants that produce their aroma from their flowers, and many which produce their aroma from their leaves.
   Some of the current examples include the Agastache mexicana 'Sangria', with magenta flowers that attract hummingbirds and pollinators, and Lavandula angustifolia 'Grosso' (Purple Lavandin), that bees love. There are also a number of salvias in bloom, including the Salvia 'Phyllis' Fancy', as well as Mandevilla laxa, a very attractive Chilean jasmine.