What's Blooming
    There are literally thousands of interesting individual plants in the Arboretum and Botanical Garden's collections.  At any time of the year there's something blooming, and there's always plenty to see. This time of year is no exception as there are many varied blooms in the gardens to see. Well worth a visit!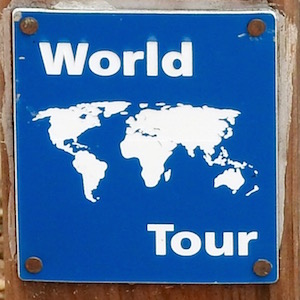 To help you decide where to start, below we present a sample of some of the specimens that are currently worth seeking out in our gardens. To aid in your quest a map of the Garden can be found here. You may also access a larger selection of images that illustrate what plants bloom in our gardens by checking out the photo gallery on the Garden Snapshots page.
California Entrance Garden
  The California Garden, on the right as you enter the Arboretum & Botanic Garden, boasts many special plants of interest to gardeners. Many of these were originally selected in the wild by Garden staff, and have since been propagated and released to the horticultural trade.
   Some of the highlights include Epilobium canum (California Fuschia) and Eriogonum fasciculatum var. foliolosum (Leafy California Buckwheat). Other plants of interest include the Encelia californica (California Brittlebush) and Malacothamnus fasciculatus 'Casitas'.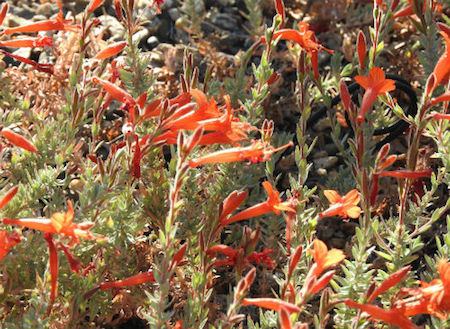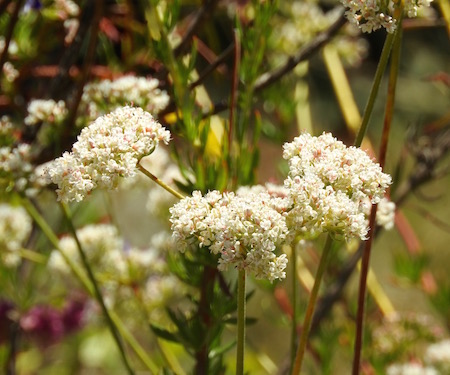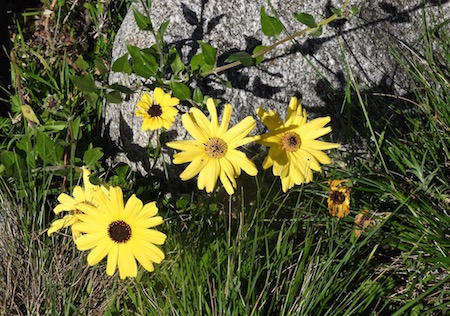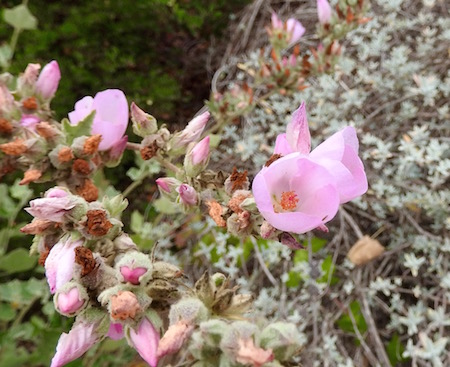 South African Garden
   Many brilliant colors and fascinating plants can be found throughout the South African garden this time of year. There is a variety of colorful proteas, ericas, leucospermums and leucadendrons currently in bloom. Among the leucospermums on display are the Leucospermum cordifolium (Salmon) and Leucospermum lineare x glabrum 'Tango'. Other plants of interest are the Erica lateralis and Leucadendron salignum 'Winter Red'.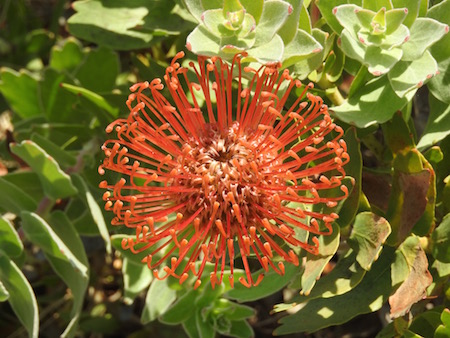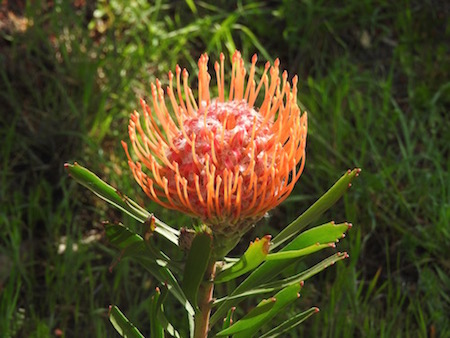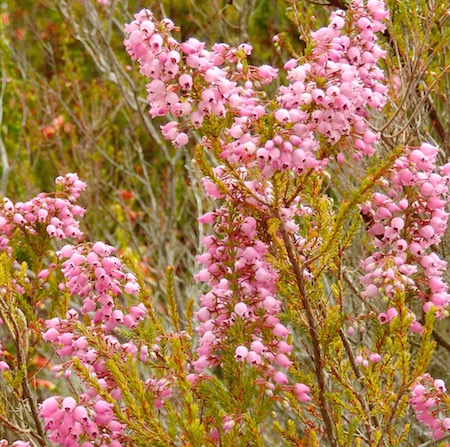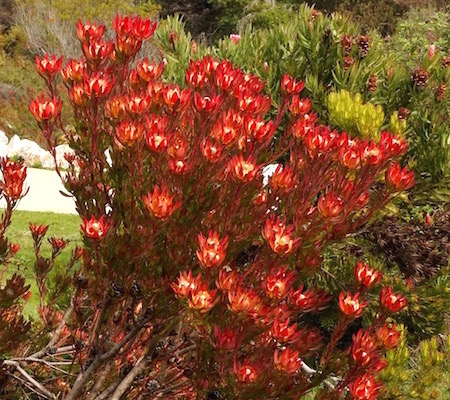 New Zealand Garden
   Many New Zealand plants and trees have become familiar to California gardeners and many special forms of these plants are on display. Currently one of the more spectacular examples in bloom is the Metrosideros kermadecensis 'Radiant', an evergreen tree in the myrtle family often referred to as the New Zealand Christmas tree.
   Among the other plants currently in bloom are a number of hebes including the Hebe 'Wiri Grace' and Hebe macrocarpa var. brevifolia (Surville Cliffs Hebe).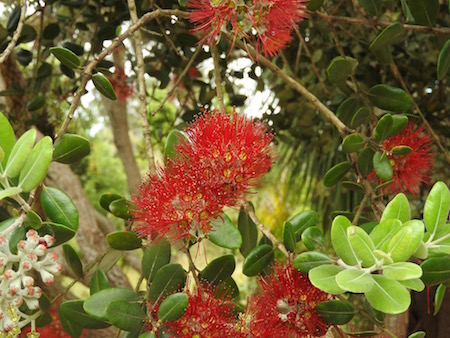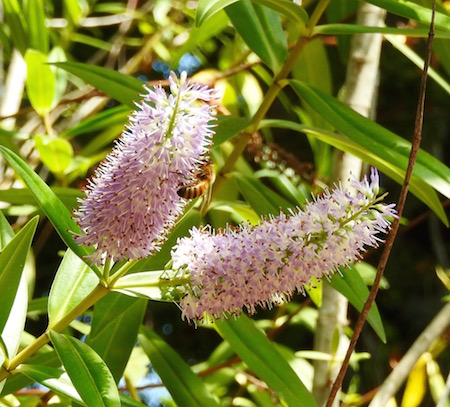 Australian Garden
   A stroll through the Australian Gardens is always a feast for the senses. There is always a variety of banksias and grevilleas in bloom of every form and hue. Both are great favorites of the hummingbirds that zip around the garden. Some examples are the attractive Banksia media and the Grevillea 'Canberra Gem'.
   There is also a wide diversity of other plants of interest. These include the Callistemon viminalis 'Little John' and Correa 'Strawberries and Cream'.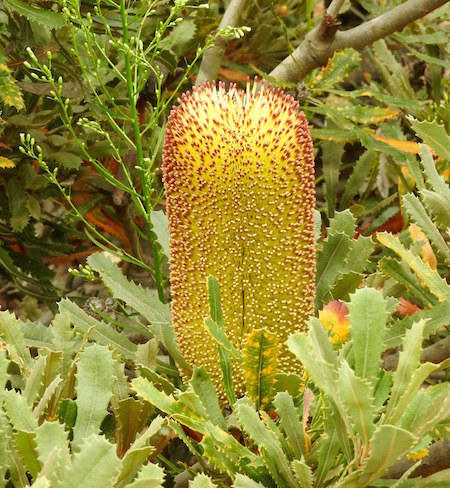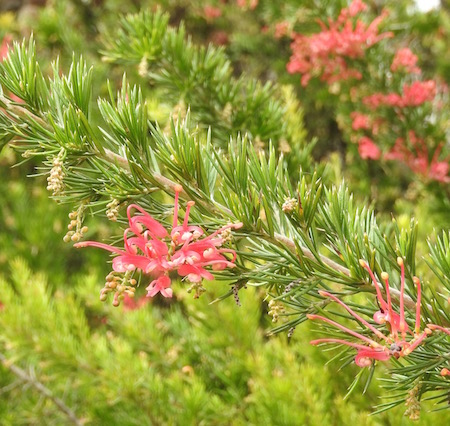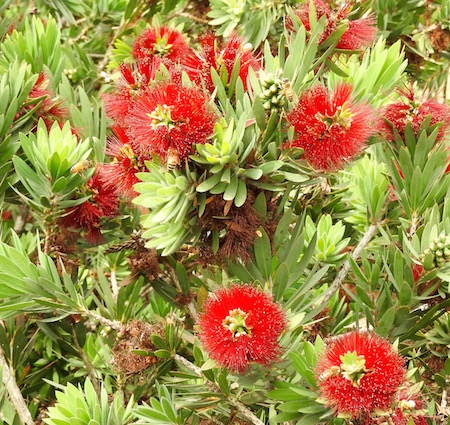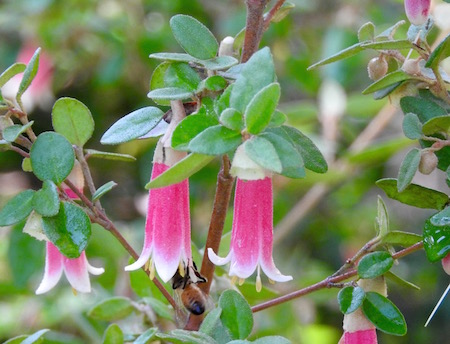 Learn about banksias from Melinda Kralj, Australian Garden curator, and the Outback Howlers.

Aroma & Succulent Gardens
   The Aroma Garden contains salvias of all shapes and sizes, lavenders, oreganos, thymes, and many other drought-tolerant perennials and shrubs can be seen. You will see many plants that produce their aroma from their flowers, and many which produce their aroma from their leaves.
   This is the time of year for salvias, and two of the current examples include the Salvia guaranitica (Blue Anise Sage) and Salvia 'Dancing Dolls'. Other plants in bloom include the Amaryllis sp. (Belladonna Lily) and Pelargonium sp.(Geranium).