Facility Rentals
UC Santa Cruz Arboretum &
Botanic Garden Rental Information
Host your next conference or other special event at the
UC Santa Cruz Arboretum & Botanic Garden
The UC Santa Cruz Arboretum & Botanic Garden comprises approximately 100 acres of gardens and research areas on the University of California Santa Cruz campus. It offers a truly unique and rustic setting for weddings and other special events. View our gallery of venue photos.
The gardens provide the perfect backdrop to celebrate amid the unmatched beauty and diversity of flora from Australia, New Zealand, South Africa and California.
The UC Santa Cruz Arboretum& Botanic Garden provides the perfect space for your event. The Garden has two outdoor spaces: the Australian Rock Garden and Picnic Area and the South African Garden.
Outdoor spaces may be rented starting at 9:00 a.m. until sunset.
| | |
| --- | --- |
| Month of Event                              | Facilities open for events until |
| October through April | 6:00 p.m. |
| May through September | 8:00 p.m. |
Australian Rock Garden and Picnic Area
Name of Venue
Capacity           
Facility Fee
Deposit

Australian Rock Garden
and Picnic Area

150 +/-
$2500, required 60 days
prior to secure the site
$500, required to
book the site
South African Garden (Garden under renovation for 2019)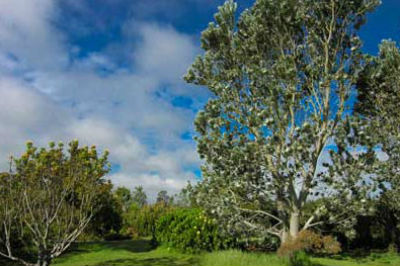 Name of Venue
Capacity            
   Facility Fee
Deposit
South African Garden
80 +/-
   $850, required 60 days
   prior to secure the site
$500, required to
book the site
Horticulture II Meeting Hall
Our meeting hall is ideal for meetings, lectures and receptions. There is a large conference table at the back of the room and a sink available for use (refrigerator is for staff only and there are no cooking facilities). Full payment is required to book the hall. 
Indoor spaces may be rented between 9:00 a.m. to 5:00 p.m., Monday through Friday and on weekends and evenings by special arrangement.
Horticulture II Meeting Hall Rental Fees
$350 for non-campus users
$300 for campus users   
Dimensions:
1,630 sq. feet- 35' wide x 48'  Carpeted area is 35' x 35' & concrete area is 35' x 13'
Capacity: Lecture seating -100 persons
Classroom/ Meal seating - 85 persons
Amenities:
85 Chairs and 12 rectangular 6' tables included.

$100 for set-up fee

Wall mounted projection screen (10' x 10') , microphone and amplification, wooden podium, and projection table, WiFi.
Complimentary
Video Projector Rental (4000 lumen).
$35 per day
Additional Rental Information
All equipment, supplies, trash, etc. must be removed and the space returned to its original configuration by the closing times noted above. The renter agrees to pay an additional fee of $50 per hour for exceeding these times.
Deposit and Payment (recharge form for campus users)
A deposit is required to book an outdoor space. The full deposit will be refunded three weeks after the event should no damages or additional fees be incurred. Full payment is required to book the indoor meeting hall. The full facility rental fee must be received no later than 60 days prior to the event.  Failure to remit payment may result in loss of reservation and forfeiture of fees paid to date.
Damage to plants, equipment, furniture or carpet will result in charges equal to the replacement costs.
A $50 discount off of the $350 rental from 9am - 5pm is offered for UCSC departmental and student organization meetings, events, trainings and campus-sponsored celebrations. The discount does not apply to students, staff or faculty using the space for personal events. In the case of memorials & celebrations of life for a UCSC student, staff or faculty member, we will offer the discount if a recharge is to be used for payment, thus confirming this is a department-supported event. Please note, the Arboretum is a self-supporting unit on campus and all rental fees assist with our ability to keep the gardens alive.
Campus recharges should be signed and submitted to the UC Santa Cruz Arboretum & Botanic Garden no later than three days prior to the event.
Cancellations
Cancellations occurring more than 60 days in advance of the event will be reimbursed the rental fees received to date. The deposit for the garden spaces is non-refundable, if cancelled within 60 days of the event. Cancellation of the Horticulture II Meeting Hall within 60 days, will result in a $50 cancellation fee.
Parking
Arboretum parking is limited to 60 spaces and is shared with garden visitors. Additional parking may be coordinated with the campus' Transportation and Parking Services unit, TAPS. Please see the TAPS website for information and booking: https://taps.ucsc.edu/parking/event-parking/index.html 
For ease of parking and to guide guests to the event site, we recommend having parking attendants for the hour prior to the event start time.