Arboretum & Botanic Garden Tours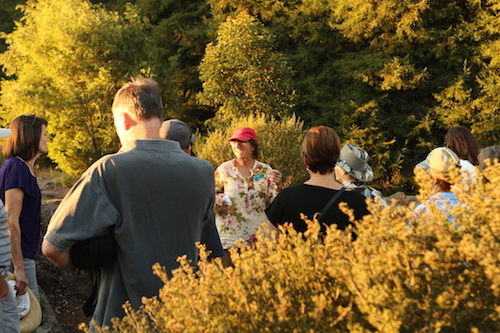 Melinda Kralj, Curator of the Australian Collection, leads a tour.
Requesting a Docent-Led Tour
Free tours are offered with admission the first Saturday of each month (no advance reservations required); meet promptly at 11:00am in front of Norrie's Gift Shop.

More personalized flexible tours are offered for $10 per adult and $5 per child, which includes admission (no Community Day or member discounts, sorry). Requesting a docent-led tour is a great way to visit the Garden. Tours usually take 60-90 minutes. Simply submit the form (below) and we will contact you.
Payment must be received in advance and can be done via the phone (831-502-2998) or by mailing in a check payable to "UC Regents" and including your confirmed tour date on your check.
 
Tour requests must be made a minimum of three weeks before the requested date(s), and no more than three months in advance.

If you need to cancel a tour, please contact us at least 24 hours before your tour. Tours are non-refundable but on occasion may be credited.
Tours are offered for groups of 5 to 15 people. Larger groups can be accommodated but may require more advanced notice to confirm tour guide availability. If your group size is greater than 15, we will assign multiple tour guides and divide into smaller tour groups.
Tours in Spanish are available by special arrangement. Se hace tours en español.
We cannot accommodate every tour request we receive, please consider providing an alternate date when completing the form. If we are unable to arrange a tour for your group please see our selection of printable resources for a self-guided visit to the gardens.

Map and information
Arboretum Birds (pdf)
Butterflies at the Arboretum (pdf)
Ethnobotany (pdf)
For children:
Arboretum Bingo (pdf)
I Spy (pdf)