Volunteer
Volunteering at the Arboretum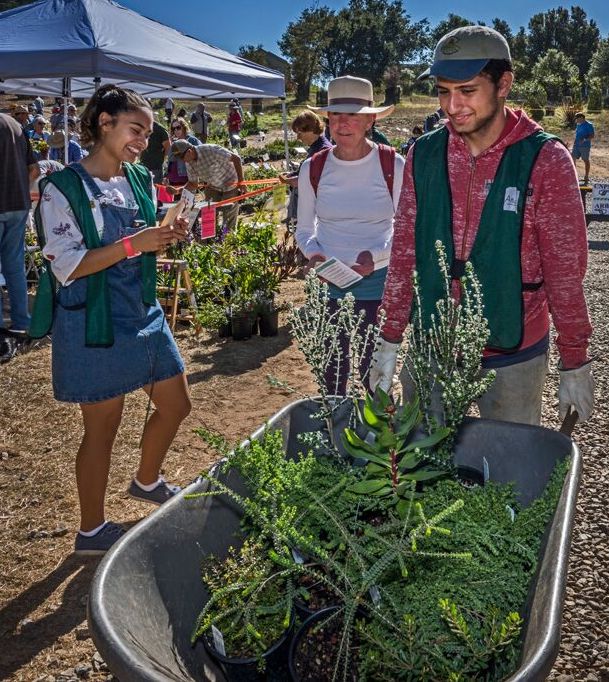 The UC Santa Cruz Arboretum & Botanic Garden relies on almost 200 volunteers year round to keep this place growing! By volunteering you become part of a community that directly supports the Arboretum's mission, to connect people with plants.
No matter what group you work with, you will learn by working side by side with home gardeners, professional and amateur naturalists, active and retired professionals of all sorts and people just beginning to explore the world of plants. You will meet others with similar interests and experience the joy and satisfaction of working together on important projects. 
CURRENT VOLUNTEERS - Log into Volunteer Portal HERE. 
---
How to begin?
To become a volunteer at the Arboretum, prospective volunteers review available volunteer opportunities then fill out an online application form. The information on this form helps us to determine your interests, experience, and availability. 
How would you like to help?
Start exploring the various volunteer opportunities HERE! Or scroll down for a brief summary. 
---
Gift & Garden Shop: Meet travelers, UCSC families & students, Arboretum members, volunteers & garden-lovers from near and far while helping raise vital funds to support the Arboretum by volunteering at Norrie's Gift & Garden Shop. Shifts are 3 hours long, Tues-Sun. 
Join one of our Weeding & Gardening Groups to help us tend to the gardens while learning about plants & socializing with like-minded volunteers:
California Conservation Garden:                                 Thursday mornings
Natives First Gardeners (CA Entrance Garden):         Tuesday mornings
Succulents! or Succulent Nursery:                              Meeting times vary
Aussie Weeders:                                                           Thursday mornings
Aroma Garden:                                           (on hold until November, 2023)
Get great exercise and the meditative benefits of being immersed in nature when you join the Pathway Sweepers. Flexible times on weekdays - 1 hour sessions.
Have horticultural, construction or related experience? Or marketing, website or other related skills? Add one of the following groups to your application and let us know how you could help:
Bulk Removals
Speical Projects / Other
Or help out with Outreach & Special Events like the Arboretum's Annual Gift & Wreath Sale or Hummingbird Day, or represent the Arboretum at community events in the area.  
---
We look forward to meeting you and welcoming you to our wonderful community of dedicated volunteers!
PLEASE review volunteer descriptions & commitments before completing an application 
- thank you.