Volunteer Opportunities
Upcoming Events and Volunteer Needs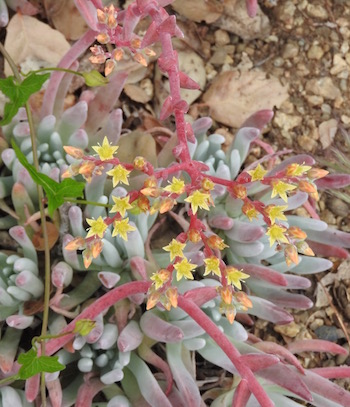 New Planting opportunity!
We are seeking volunteers interested in planting out 'new' specimens to the Succulents & Cacti Garden. The 'new' plantings will be drawn from our extensive collection in the Succulent and Cacti growing area and we're excited to get some of these amazing plants out of the nursery and into public view! This special project will involve bending and kneeling on a sometimes slippery gravel slope. Most weeding and digging will be done ahead of time by staff and student garden workers. 
When: early-mid May
Duration: 3-4 hrs/day for 1-4 days depending upon volunteer turnout
Days of week: Mondays and/or Wednesdays
If interested, please email Katie at cscordes@ucsc.edu.
The Dried Flower Group is starting up again this season!  
Interested in creating unique, one of a kind wreaths and art pieces? Please check out the volunteer description and usual meeting days under Dried Flower Wreath Making (below).
If interested, please email Katie at cscordes@ucsc.edu.
New Volunteers - please fill out the application (below)!

The UC Santa Cruz Arboretum relies on almost 200 volunteers to keep this place growing! By volunteering at the UC Santa Cruz Arboretum you become part of a community that directly supports the Arboretum's mission, to inspire stewardship of the world's biodiversity through research, education, and the conservation of rare, endangered, and extraordinary plants. 
When volunteering, you will learn by working side by side with professionals in gardening, horticulture and education while gaining hands-on experience in the beautiful gardens. You will meet others with similar interests and experience the joy and satisfaction of working together on important projects. 

Please read through the Volunteer Opportunities below prior to completing the Volunteer Application. All applications are reviewed and responded to within 1 to 2 weeks of receipt. 

We look forward to meeting you and welcoming you to our wonderful community of dedicated volunteers!
Read more on the crucial role volunteers have played in the Arboretum's first fifty years. How would you like to help?

 
We Always want more volunteers! Start exploring the various volunteer opportunities HERE!