Volunteer
Announcing Volunteer Opportunities
Norrie's Gift shop needs more volunteers!
Seeking shop volunteers, on-site training, shifts 10am-1pm & 1pm-4pm.

Jean & Bill Lane Library Re-Opened
Seeking more volunteers, shifts are 10am-1pm or 1pm-4pm, see volunteer desciption for more information. 
How to begin volunteering
To become a volunteer at the Arboretum, prospective volunteers fill out an online application form and are welcome to come by the office for assistance. The information on this form helps us to determine your interests, experience, availability and any goals you may want to achieve while volunteering with us.
New Volunteers - please fill out the application (below)!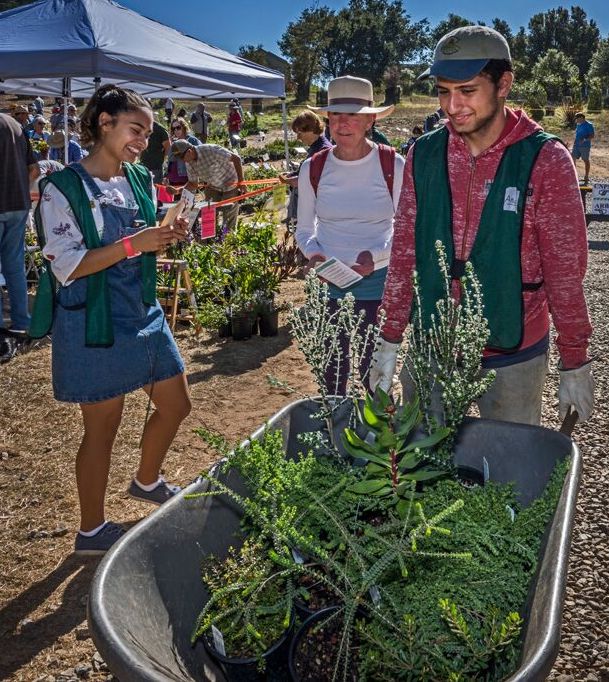 The UC Santa Cruz Arboretum relies on almost 200 volunteers to keep this place growing! By volunteering at the UC Santa Cruz Arboretum you become part of a community that directly supports the Arboretum's mission, to inspire stewardship of the world's biodiversity through research, education, and the conservation of rare, endangered, and extraordinary plants. 
When volunteering, you will learn by working side by side with professionals in gardening, horticulture and education while gaining hands-on experience in the beautiful gardens. You will meet others with similar interests and experience the joy and satisfaction of working together on important projects. 
Please read through the Volunteer Opportunities below prior to completing the Volunteer Application.
All applications are reviewed and responded to within 1 to 2 weeks of receipt. 
We look forward to meeting you and welcoming you to our wonderful community of dedicated volunteers!  
How would you like to help?

 
We Always want more volunteers! Start exploring the various volunteer opportunities HERE!