Welcome!
---
Garden Etiquette
---
Please help us maintain the peaceful atmosphere people have come to enjoy. For fire safety and the health of other visitors, there is no smoking.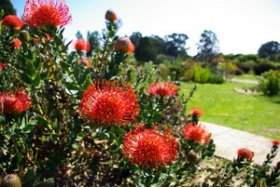 To protect our collection, endangered species, and educational materials: There is no collecting of any plant or animal material of any kind dead or alive. This also means no collecting of any seeds or cuttings. We are required to mention that collecting tadpoles, harassing or touching the federally protected red-legged frogs is against federal law. Adult supervision of children is required. Take only notes (not labels or flowers), leave only footprints.
For your safety: Mountain lion sightings are rare, but read the signs about how to stay safe. Please stay on concrete or dirt paths to avoid poison oak, spines, uneven footing and to avoid compacting the soil over tender roots or trampling small plants.
UCSC does not allow dogs on campus, which includes the Arboretum.