Raptor Day 2022 - July 30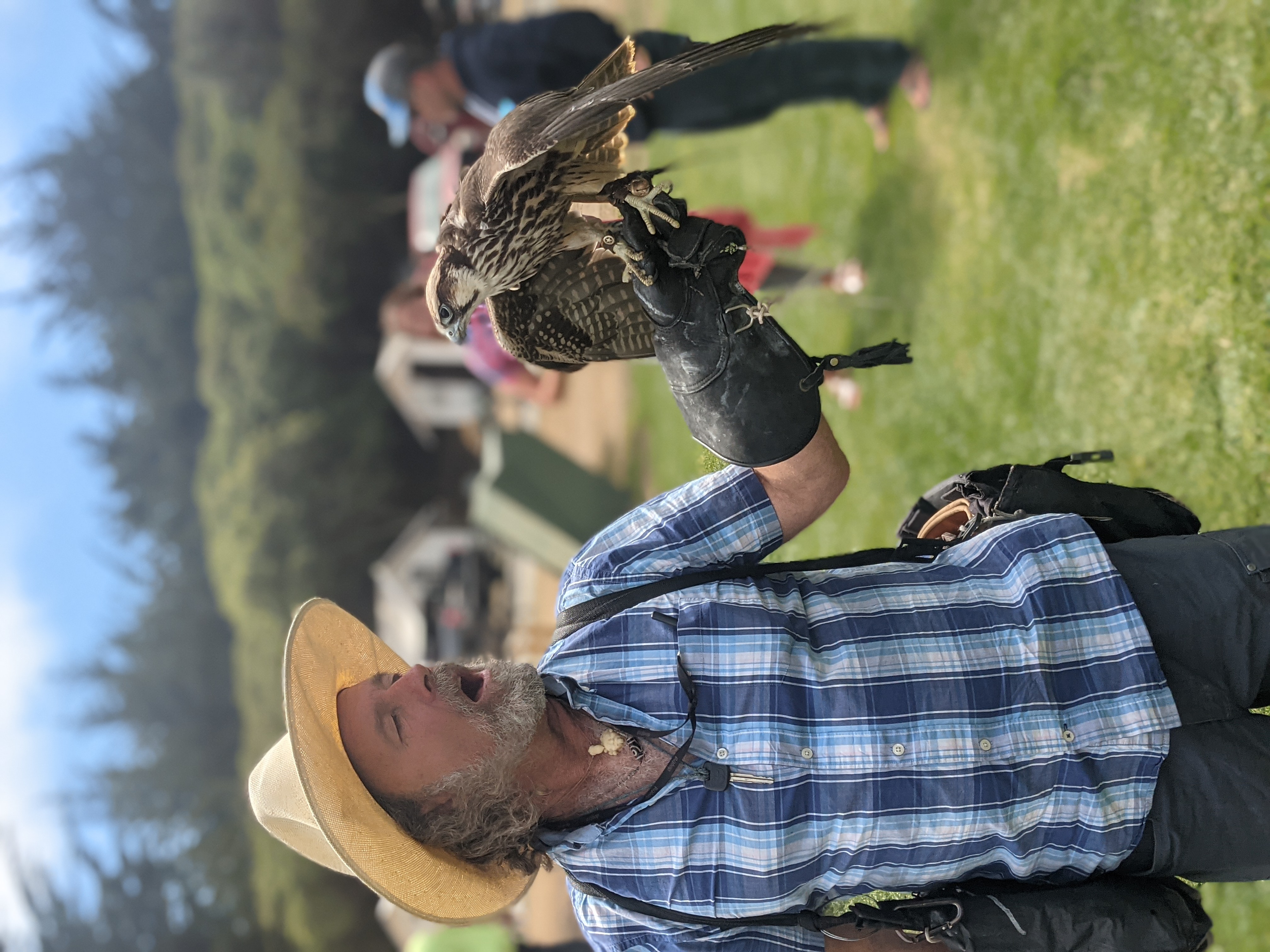 JOIN US SATURDAY, JULY 30 FOR RAPTOR DAY AT THE ARBORETUM!
---
We are very pleased to present Kenny Elvin and the raptors of Full Circle Falconry!  Kenny Elvin, falconer and ornithologist, is bringing his hawks, falcons and owls to the Arboretum for a morning of flight presentations and natural history.  Visitors can meet the birds as well as observe their flight and predation behaviors.  This is a fun and interactive presentation including raptor biology and conservation.  
Kenny Elvin has been a falconer for 20 years. He's found a niche doing educational work along with hunting and avian pest control.  He loves to work with an energetic and informed audience!
There will be organized bird walks as well as information tables by several organizations to help us all understand more about raptors and wildlife.
---
PARKING IS LIMITED! 
Avoid the hassle & make it an adventure: Walk, cycle, e-bike, ride a scooter, moped, one-wheel or catch a Bus to the Arboretum
TICKETS - Available DAY OF & IN PERSON ONLY
8am to 1pm - Raptor Day Special Event Admission ONLY 
1 to 5pm - Return to General Public Admission   
---
RAPTOR DAY SCHEDULE:
8am - Gates open

8am - 10am - Bird walks every half hour from 8-10am. After you pay Raptor Day Admission, m

eet at the trailhead to the Australian Garden in the Visitor parking lot next to the Welcome & Admissions Table

11am - Kid-friendly bird walk led by the Bird School Project 

9am - 1pm - Local Birding & Falcon-specific Information Tables in the Australian Garden meadow 

10am & Noon - Full Circle Falconry Presentations, one at 10am and a second at noon
---
SPECIAL EVENT ADMISSION 
TICKETS AVAILABLE DAY OF, IN PERSON ONLY  8am-1pm 
Arboretum
Members Admission
 

Fee: 
(MUST PRESENT CURRENT MEMBERSHIP CARD)
$10  Member Adult
 $5   Member Youth (2-17 yrs)                                                          

Non-Members Admission:
$20    Non-Member Adult
$10    Non-Member Youth (2-17 yrs)
Pay in person once you're arrived in the garden

No Advance or Online ticket purchase available
Become an Arboretum Member Today!
---
PARKING & TRANSPORTATION
PARKING IS LIMITED!

 
We suggest you consider a 
Walk, Bike or Bus ride to the Arboretum.
But if you must drive and the Arboretum parking lot is FULL, many UCSC parking lots are FREE on weekends and are within reasonable walking distance from the Arboretum. See MAP HERE and check back for updates prior to the event. 
Please note that dogs are not allowed on campus, including the Arboretum. Help protect our rare plant collections by staying on paths, supervising children, and leaving pets at home.
---
In the meantime, check out the great resources below and be sure to visit the Arboretum year-round to watch, photograph and admire these remarkable birds of prey! 
Excerpt from our 'Birding at the Arboretum' page:
"Beyond the main Arboretum, the land rises up to the main campus and comprises a mixture of open grassland and patches of woodland. This area includes the California Native Garden which borders the Great Meadow.  Both provide good habitat for hunting raptors which include red-tailed and red shouldered hawks, white-tailed kites and northern harriers. Cooper's hawks usually remain within the cover of the woodlands."
LOCAL BIRDING RESOURCES:
UCSC Predatory Bird Research Group Saving peregrine falcons and other birds of prey. 
The Kenneth S. Norris Center for Natural History is a natural history museum at UCSC designed to give students and community members all of the resources they need to engage with the natural world. 
Santa Cruz Bird Club Promoting the joy of birding in Santa Cruz since 1956.
Santa Cruz Museum of Natural History, a 100-year old museum near Seabright Beach in Santa Cruz connecting people with nature and science to inspire stewardship of the natural world through an array of educational programs and exhibits focused on the natural and cultural history of our region.
Raptors are the Solution A project of Earth Island Institute, educating people about the dangers of rat poison in the food web.